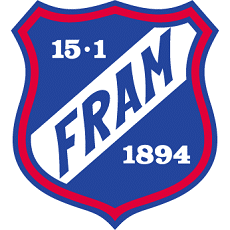 Stadium: Framparken
Club: Fram IF
Capacity: 1.500 (550 seats) – Stadium under renovation in 2019. The capacity will be about 2.000 after the renovation
Surface: Grass
Location: In the city Larvik, south in Vestfold
Address: Jernbanegata 15, 3262 Larvik
Visited: 13. April 2019. Fram IF – Elverum Fotball 3-1 (1-0) 2. Division (3. tier) Goals: 1-0 Aukland, 2-0 Osestad, 2-1 Solum, 3-1 Ndiaye Att: 550
Comment:
A nice match in fantastic weather in Larvik. Fram, heavily inpired by the players from IK Start, where the better side throughout the match. A fully deserved victory for the hosts. Great atmosphere and a fantastic hamburger at the bbq made it a perfect afternoon!
Club website: www.iffram.no
County: Vestfold – Norway