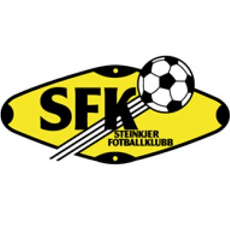 Stadium: Guldbergaunet Stadion. In March 2021, the stadium changed name for sponsorship reasons to Guldbergaunet TOBB Arena
Club: Steinkjer FK
Club website: www.steinkjerfk.no
Capacity: 2.500 (320 seats)
Surface: Syntethic
Location: In the city Steinkjer, about 120 km. north-east of Trondheim
Address: Guldbergaunet 33, 7716 Steinkjer
Visited: 5. October 2019 Norsk Tipping-ligaen avd. 5 (4. tier): Steinkjer FK – FK Gjøvik-Lyn 1-5 (0-4) Goals: 0-1 Lekaj (5), 0-2 Skogli (20), 0-3 Ravndal (33, Goal), 0-4 Nelson (43), 1-4 Årdal (55), 1-5 (Lekaj (72). Att: 178
Report:
Steinkjer is the third largest city in Trøndelag, but the football team has never seen worse times. An awful season is coming to end and relegation was already certain when I made a visit to Guldbergaunet Stadion. Having won silver medals in the top-flight in the sixties, the downfall has been dramatic. For the first time ever, Steinkjer FK will play on 5. tier next season. They will probably have the best stadium in the division though, because Guldbergaunet Stadion is an intimate and very nice stadium.
So, what about the match then? It was really all about the visitors from Gjøvik. Sleeping giants themselves, they have a decent side this season and are fighting at the top of the table. FK Gjøvik-Lyn controlled the match from start to finish and did exactly what they wanted to. In the end a very easy and deserved 5-1 victory
County: Trøndelag – Norway