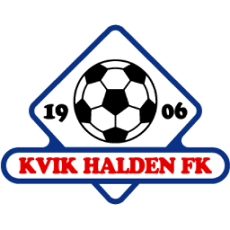 Stadium: Halden Stadion
Club: Kvik-Halden FK
Capacity: 4.200 (2.500 seats)
Surface: Grass
Location: In the city Halden, south in Østfold. Only a couple of kilometers north of the Swedish border
Address: Peder Ankers gate 13, 1771 Halden
Visited: 22. April 2019. Post-Nord  ligaen (3.tier): Kvik-Halden FK – Fredrikstad FK 1-0 (1-0) Goals: Suka Suka. Att: 2.725
Comment:
This one I had really been looking forward to for some time. First of all, Kvik-Halden won promotion last season, meaning they are finally back at 3. tier of Norwegian football. Secondly, this was the first match of the season at Halden Stadion and probably the biggest match all season. Third, the opponents, the mighty Østfold rivals Fredrikstad. Fredrikstad have only one goal this season; promotion!  Everything else will be a mighty disapointment. In other words, everything were on stake! The weather was fantastic and the atmosphere electric before kick-off. Above all, the official attendance, a mighty 2725. Certainly an impressive crowd at third tier in many countries!
The match was a fight from the first whistle blow. The crowd went wild when Kvik took the lead in the first half. After that the hosts worked hard to defend it throughout the rest of the  match. An enthusiastic home crowd got more and more nervous as the second half progress. Fredrikstad got closer and closer. With only minutes from time, Fredrikstad hit the post from long range. But after that, the visitors from Fredrikstad never came closer. Kvik-Halden could celebrate a memorable victory against their famous rivals. It was certainly a great football night at Halden Stadion!
Other stadium: Strupe Kunstgress is used for training and youth matches

Club website: www.kvikhalden.no
County: Østfold – Norway 

Other matches:
28.08.2021: Kvik Halden – Alta IF 0-0 Post-Nord  ligaen (3.tier)