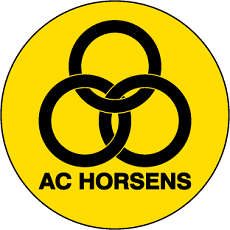 Stadium: Nordstern Arena Horsens (Formerly known as CASA Arena Horsenes until 2022)
Club: AC Horsens
Capacity: 10.495 (7.500 seats)
Surface: Grass
Location: In the city Horsens
Address: Langmarksvej 59, 8700 Horsensens
Match: 24. February 2020: Superliga AC  Horsens – AGF 1-2 (1-1) 0-1 Mortensen (14), 1-1 Kiilerich (34), 1-2 Højer Nielsen (55). Att: 3.566
Match report: Monday night football from CASA Arena Horsens east on Jylland. Horsens is not that far south of Aarhus, so this is considered sort of a local derby. A February night meant that it was cold as hell and in addition, the rain was pouring down. I managed to arrive quite early and got inside the stadium just before the worst rain started. The atmosphere was good and both sets of fans were fired up for the first match of the year.
On the pitch it was a quite even affair. AGF is by far the bigger club of the two, but Horsens is never an easy place to visit. Going into the interval, the clubs were levelled at 1-1. After the break AGF started brightly and regained the lead. After that, it was just about holding on to the lead for the visitors. AC Horsens pushed on with their long ball style, but never managed to get the goal. It ended with a narrow 2-1 victory for the visitors from Aarhus. It was suddenly a cold, rainy and windy experience at CASA Arena Horsens, but also a nice and entertaining battle on the pitch!
Visited: July 2018 and February 2020
Club website: www.achorsens.dk
County: Jylland – Denmark