Stadium: RSA BIL Arena (sponsorship deal from 2021-2026, with an option of another five years) Former name: OSM Stadion Fevik (2009-2021)
Info: A new synthetic pitch was installed in 2021, partly finance by the new name-sponsor RSA BIL
CapClub: IL Express
Capacity: 1.000
Surface: Syntethic
Location: At the harbour in Fevik (just east of the city of Grimstad), next to Fevik Stadion
Address: Randulf Hansens vei, Fevik
Visited: August 2017 and
01.04.2022, 2. Qualification Round of the Norwegian Cup 2022: IL Express (4.tier) – Søgne FK (5. tier) 2-1 (0-1) 0-1 Karlsen (13), 1-1 Wangerud (67), 2-1 Wangerud (75)
RSA BIL Arena sits beautiful next to the harbor on Fevik, Grimstad. The stadium is one of the best synthetic pitches in Grimstad. It is used by several clubs when the conditions not allow play on the grass on the main stadiums. When I arrived at Fevik, the sun was about to set on a cold, but wonderful spring Friday.
This was the last qualification round for the Norwegian cup 2022, and the victory prize would probably be a match against one of the local giants. In other words, a lot to play for. Express were large favorites due to the home-advantage and due to normally playing one division higher. But the visitors really put up a good fight.
Express had to work really hard for it. But as the match progressed, the difference in quality became clearer and clearer. In the end a deserved victory for the hosts at RSA BIL Arena and a chance for a cup party in the 1. ordinary round!
Club website: www.exf.no 
County: Aust-Agder – Norway 
April 2022: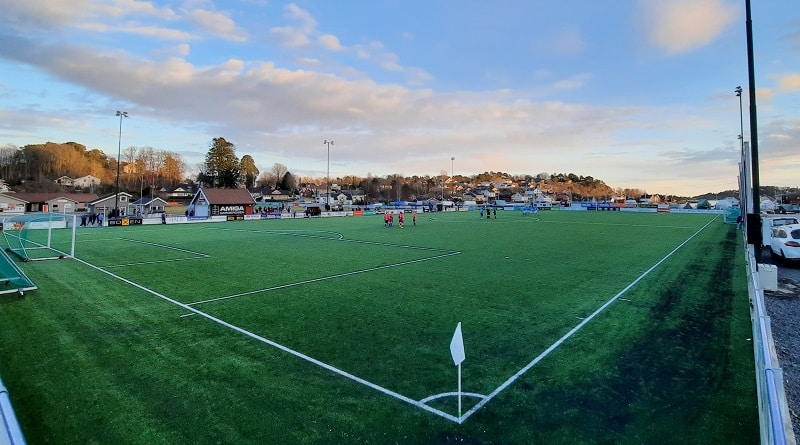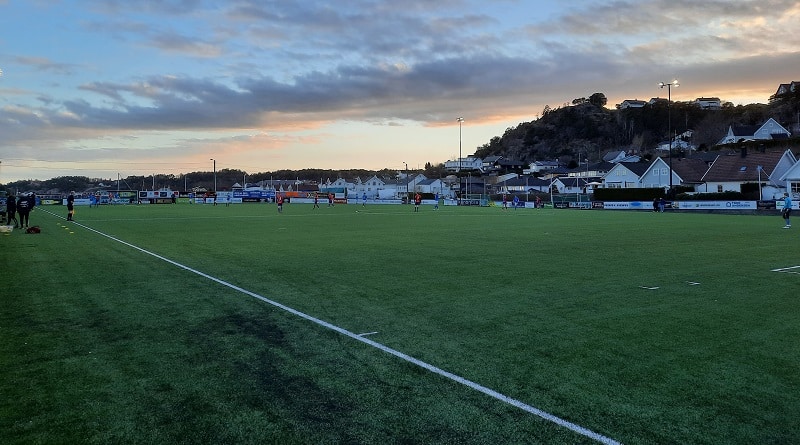 August 2017: