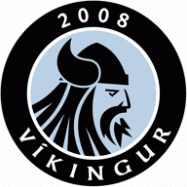 Stadium: Sarpugerði
Club: Vikingur
Capacity: 1.600 (440 seats)
Info: Vikingur is a merger of the teams from the two villages Norðragøtu and Leirvik. The club also have Uppi á Brekku stadium in Leirvik.
Surface: Synthetic
Location: In the small village of Norðragøtu
Address: Norðragøtu
Visited: July 2014 and September 2018 2. deild (3.tier) Vikingur III – B68 Toftir II 1-0 (0-0) Goal: Dalbø (See video of the goal below) Att: 15
Comment: What can I say? Third and final match of the day and freezingly cold at Sarpugerði stadium in the small village of Norðragøtu. 3. tier of the Faroe Islands football pyramide is certainly not something you will look out for normally. But when you are on a tour you should definetly take the opportunities that come yor way! To be honest, for larger parts og the match I was the only person in the stand! If you add some people sitting comfortably in their cars, the attendance would be around 15.
So what about the match itself then? It was certainly a nice oldschool fight between two sides that where really up it. Because of the lack of quality, it was no surprise that a little bit of luck was needed to win the match. Vikingur captain Andras Dalbø finally became the matchwinner with his deflected free-kick goal late in the second half. (See video of the goal below) 

Club website: www.vikingur.fo
Region: Eysturoy – Faroe Islands