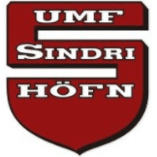 Stadium: Sindravöllur
Club: UMF Sindri
Capacity: 1.200
Surface: Grass
Location: In the midle of the village Höfn, south-east on Iceland
Address: Höfn
Visited: 22. July 2017. 2. deild (3 tier) Sindri – Njarðvík 1-2 Goals Sindri: Asgeirsson, Njarðvík: Fjeldsted & Palsson. Att: 60
Comment:
Rock bottom of the league Sindri, took on league leaders Njarðvík.
It turned out to be a very entertaining match. All three goals came within a six minutes spell in the first half. After the interval, Njarðvík pushed for a third, but wasted a lot of chances. Sindri was always in the game and had some chances on the counter. Two minutes from full time, Sindri goalkeeper Darko Franic was sent-off for a professional foul. The following free-kick from Andri Fannar Freysson hit the bar (see video below). Certainly a well deserved victory for the visitors in the end.
Club website: www.umfsindri.is
Region:  Austurland (Eastern) – Iceland