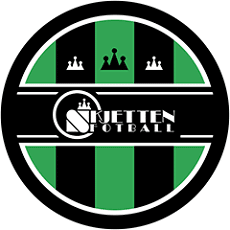 Stadium: Skjetten Stadion
Club: Skjetten SK
Capacity: 1.500
Surface: Syntethic
Location: In Skjetten, just west of Lillestrøm
Address: Nordens vei 21, 2013 Skjetten
Visited: 3. August 2019. 3. Division (4. tier) Skjetten SK – Leknes FK 4-3 (0-2) Goals Skjetten: Egbele, Khan, Rahim & Qadri. Leknes: Eriksson, Asad & Martinsen. Att: 80
Report:
A hot and beautiful Saturday afternoon at Skjetten Stadion. Bottom side Leknes, made it very diffficult for Skjetten. The hosts had to wait until added time before they got their winner. Leknes fighted well, but in the end, Skjetten could secure three deserved points. Fantastic support from about 15 awaysupporters. Certainly full credit to them!
Club website: www.skjettenfotball.no
County: Akershus – Norway