Skonto Stadium FC Riga – Dundalk FC 0-0 (4-5 pen)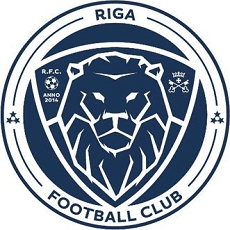 Stadium: Skonto Stadium – Att: 3.500
Match: Champions League 1. qualification round 17. July 2019 0-0 (0-0) 0-0 on aggregate 4-5 on penalties
Report:
My first ever match in Latvia brought me to the Skonto Stadium in the middle of Riga, the capital of Latvia. The stadium has a capacity of 9500 seats and is the largest football stadium in Latvia. It is home to both FC Riga and the Latvian National-team. Football is not a large sport in Latvia, so I was very curious on what to expect from my visit. A goalless draw in Ireland in the first match, was a very good result for FC Riga. So, it was all to play for in the second-leg and I was hoping for a good crowd.
When entering the stadium, loud music met me. One DJ played outside the stadium and another one had his show inside. Latvian stile! I grabbed a beer and enjoyed the very friendly atmosphere. Had a chat with a local guy which could tell me that it would probably be the best turnout in the stands for the whole season. An eventually it did. It took the better parts of the first-half for everybody to arrive. But in the end, it was about 3500 inside Skonto Stadium. A very good number for Latvian football.
On the pitch the two sides were far better to defend than attack. As the match progressed, the level of risk committing men forward was also lowered. To be honest, the quality was poor. But the tension and excitement were always there. One goal would probably be enough for either side to progress. It was not to be. And extra-time didn't help either. The tie had to be decided from the spot-kick. Dundalk won it in the end by 5-4.
The quality on the pitch could have been better, but all in all a nice groundhopping experience at Skonto Stadium
Website: www.rigafc.lv
County: Riga – Latvia
– Check out all my Groundhopping matches