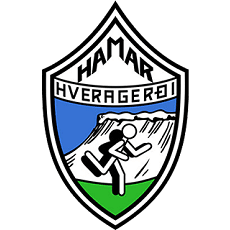 Stadium: Gryluvöllur
Club: Íþróttafélagið Hamar
Capacity: 1.500
Surface: Grass
Location: In the village Hveragerði, 50 km. southeast of Reykjavik
Address: Vorsabæjarhóll
Visited: July 2017
& 20.07.2022 4. Deild (5.tier): Hamar – GG 2-3 (0-1) 0-1 Sigurdsson (9), 0-2 Jugovic (58), 1-2 Calzada (60), 2-2 Rocha (80), 2-3 Jón Unnar Viktorsson (88, goal) Att: 125
Hveragerdi is a small town about 40 km. east of Reykjavik, and 15 km. west of Selfoss. The Gryluvöllur stadium is located in walking distance from the town center and surrounded by amazing natural geothermal hot springs. Creating natural smoke bombs! A very special stadium and this you will not see on any other stadium in the Nordics! Well worth a visit.
On the pitch it was an important match in fight to get promoted back to 4. tier. A good crowd of about 125 surrounded the pitch in the nice, but chilly weather.  The visitors GG controlled most of the match, but Hamar fought their way back into it and levelled the match about 10 minutes from time. Only for GG to head home the winner only minutes from the end.
Tough luck for Hamar in this match, but long term I think the club from Gryluvöllur has good potential. The town of Heragerdi and the surrounding area are growing, so the future should look bright for the club with this wonderful and special stadium!
Club website: www.hamarsport.is
Region: Suðurland – Iceland