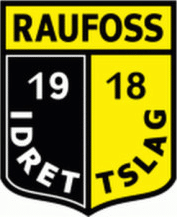 Stadium: NAMMO Stadion
Club: Raufoss Fotball
Capacity: 1.800 (1.600 seats)
Surface: Synthetic
Location: Just west of the city center in Raufoss on Hadeland
Address: Idrettsvegen, Raufoss
Visited: 28. October 2017. Play-off OBOS-ligaen 1. leg. Raufoss Fotball – Notodden FK 2-1 Goals Raufoss: Strand Nilsen & Hjelmtvedt. Notodden: Mbeduled. Att: 1.070
Comment:
A lot on stake when Raufoss Fotball took on Notodden FK at NAMMO Stadion. Both teams ended their season second in their PostNord leagues (3. tier) and qualified for play-off to the OBOS-ligaen (2. tier). This was the first of two play-off matches between the sides. The winner would earn the chance to play a final play-off round against the number 14. placed team in the OBOS-ligaen. It turned out to be a very entertaining and good match. Raufoss controlled the first half and went into half time with a deserved 1-0 lead. Shortly after the interval, the homeside doubled their advantage. The match could be dead and buried when Raufoss came agonizingly close midway past the second half, striking the woodwork with a powerful shot. Instead Notodden came back and two minutes from full time, the pressure paid off. A cross from the left was turned in on the back post. 2-1 victory for Raufoss, and still all to play for in the second leg next Saturday at Notodden.
Club website: www.raufossfotball.no
County: Oppland –  Norway