Stadium: Sola Arena
Club: Karlstad Fotboll
Info: Karlstad Kommun is building a new stadium at the Sannafältet in Karlstad, with a working-title Sandbäcken Arena. This stadium will replace the old Tingvalla Idrottsplats and be part of a large sports-complex. The arena will be a combined football and athletics stadium with hybrid-grass and under-soil heating. Total capacity of the stadium will be 4000, of which 1500 will be seats on the main-stand. Next to the stadium there is a field for American football.
The building process is expected to start during the summer of 2021 and the stadium should be completed and ready for use during the autumn of 2022. In March 2022 it was decided that the official name of the stadium would be Sola Arena. As a celebration of the sun. The sun is also an important element in the Karlstad Fotboll logo.
Update: The stadium was opened in the autumn of 2022.
Capacity: 4.000 (1.500 seats)
Surface: Hybrid-grass
Location: At Sannafältet in the city Karlstad in Värmland
Address: Wittstockslingan 6, 653 48 Karlstad
Visited: October 2021 and July 2023
Other stadiums: Våxnäs IP
Former stadiums: Tingvalla IP
Club website: www.karlstadfotboll.com
County: Värmland – Sweden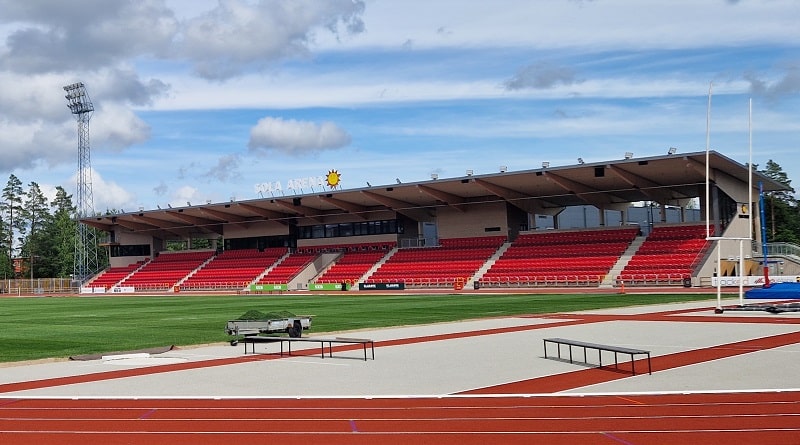 Photos from October 2021. The construction of the Sola Arena: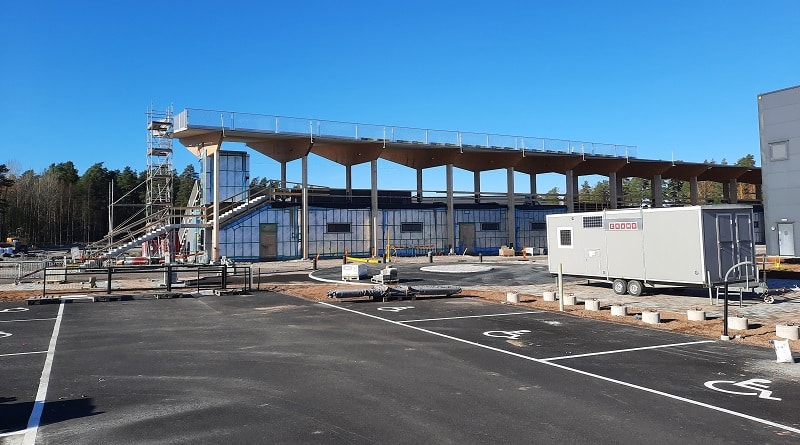 Illustrations from Sweco: