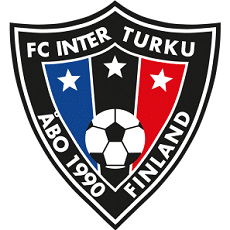 Stadium: Veritas Stadion
Club: FC Inter and TPS
Capacity: 9.372 (8.072 seats)
Surface: Grass
Location: Just south-east of the city-center of Turku/Åbo
Address: Hippoksentie 6, 20720 Turku
Visited: 21. July 2019 Veikkausliiga (1.tier): FC Inter – FC Honka 3-1 (1-0) Goals: 1-0 Mastokangas (6), 2-0 Valencic (59), 2-1 Suarez (82), 3-1 Furuholm (90) Att: 2.077
Comment:
Turku (Åbo in Swedish) is a city south-west in Finland. Veritas Stadion is a modern stadium, located just east of the city center. It is home to both major football clubs in the city, FC Inter and TPS.
During the summer of 2019, I went to the Veritas Stadion for a Veikkausliiga (1.tier) match. The hosts FC Inter took on the visitors from FC Honka. Both clubs were sitting nice in the table, the weather was hot and the sun was shining. I had high expectations for a great match and a good crowd. I am not sure if it was the summer-holiday or the teams, but I really have to say that I was kind of surprised that only about 2000 people showed up to watch this match. It is a disappointing number.
The ones that had made the trip, was not to be disappointed though. Two good sides delivered a solid performance and, in the end, all three points stayed in Turku. It was probably a fair result. If you ever plan to visit a match on the Veritas Stadion, I would recommend the city derby between FC Inter and TPS, or a match when either of the two clubs play HJK from Helsinki.
Club website: www.fcinter.fi and www.fc.tps.fi
County: Egentliga Finland – Finland