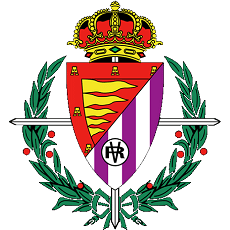 Stadium: Estadio Jose Zorrilla
Club: Real Valladolid
Capacity: 26.500 (All-seater)
Surface: Grass
Location: In the western parts of the city Valladolid
Address: Av. Mundial 82, s/n, 47014 Valladolid
Visited: 8. February 2019 La Liga Real Valladolid – Villareal 0-0 (0-0) Goals: Att: 16.842
Report: 
Take the train northbound from Madrid. After about an hour, you will reach Valladolid. The city has a population of about 300.000 and it is the capital in the Castile and León region.
The lovely Estadio José Zorrilla was built prior to the World Cup in Spain in 1982, where it hosted three group matches. Home of Real Valladolid, the stadium today holds about 26.500
I arrived late from Madrid after a lot of plane trouble during the day. I grabbed a taxi at the train station and reached the stadium about 25 minutes into the match. Luckily, it was no problem getting into the stadium.
Like many stadiums in Spain, the Estadio Jose Zorrilla it is a bit worn down, but it certainly has a lot of character. It is great view from the stands and a very nice atmosphere. On the pitch both sides really lacked the quality during the match. Villareal was the better side, but you could clearly see that the Yellow Submarine lacked a lot of confidence. It ended like it had to end, a goalless draw. Anyway, Valladolid is a beautiful city, so don't hesitate to make the trip if you can!
Club website: www.realvalladolid.es
County: Castile and León – Spain 
See all my groundhopping matches