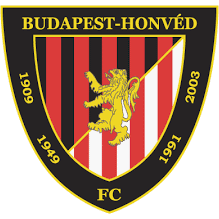 Stadium: Hidegkuti Nándor Stadion – Att: 2.000
Match: Nemzeti Bajnokság I (1. tier) 08. February 2019: Budapest Honvéd FC – Zalaegerszeg 2-0 (1-0) Goals: 1-0 Kalnoki-Kis (43), 2-0 Lanzafame (89 pen, Goal)
Report:
I had really high expectations for the great Budapest derby Ujpest – Ferencvaros. Unfortunately, that match was postponed, so my first ever match in the amazing capital of Hungary, turned out to be something completely different than I had planned. This is a country with very proud football traditions and Budapest is full of clubs. Budapest Honved is a classic Budapest club. At the moment their stadium is undergoing renovations, so they play their matches at the Hidegkuti Nándor Stadion of MTK Budapest this season. The stadium is a small modern stadium with walls on the short-sides. You get kind of a feeling of an indoor arena.
On the pitch the match was relatively even. Honved struck late in both halves and as expected, ran out winners. But the visitors had their moments as well. Good atmosphere from the Honved fans, but they obviously miss their home. Hidegkuti Nándor Stadion is a special stadium and well worth a visit. It is also quite easy to get there as it is located not far from the city center.
Website: www.mtkbudapest.hu
County: Central Hungary – Hungary

– Check out all my Groundhopping matches