Tottenham Hotspurs – Real Madrid 3-1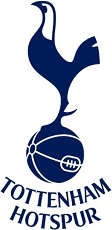 Stadium: Wembley Stadium – Att: 83.782
Match: Champions League 1. November 2017. Tottenham Hotspurs – Real Madrid 3-1 (1-0) Goals: Alli 2, Eriksen, Ronaldo.
Comment:
What an experience being a lifelong Spurs fan. It was a fantastic European night under the floodlights at the mighty Wembley Stadium in north London. Tottenham Hotspurs took on the worlds best team, Real Madrid. A highly entertaining match were both sides showed their quality.
Spurs took the lead in the first half through a weel build attack, finished off by Dele Alli. In the second half the homeside showed a lot of character and doubled the lead through the same man. Midway through the second half, a great counter-attack was then finished brilliantly by the Danish star Christian Eriksen. It was more than Real could answer. Wembley was rocking and the homeside eventually ran out as deserved 3-1 winners.
It was a night to remember for all Spurs fans. First ever home win for Spurs against Spanish opposition in Europe, and they also secured their place in the last 16. For the reigning champions from Madrid, it was the first European setback in a long time.
Club website: www.spurs.co.uk
County: London – England