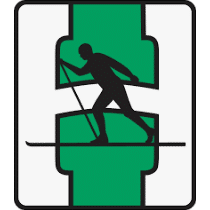 Stadium: Hemingbanen
Club: Heming Fotball
Capacity: 1.400
Surface: Syntethic
Location: At Slemdal west in Oslo
Address: Gulleråsvn 5, 0779 Oslo
Visited: 02. October 2018. Heming Fotball – Nordstrand IF 1-3 (0-0) 4. Division (5. tier) Goal Heming: Mukendi, Goals Nordstrand: Stubberud, Nyhus pen.(watch the goal below) & Skilbrigt Att: 70
Comment: Topmatch at Hemingbanen in the western parts of Oslo. Nordstrand second in the table just one point ahead of Heming in third and one point behind leaders Manglerud. All to play for both sides with two games to go of the season. The first half was tight and even with few chances and ended goalless. In the second half the match started to open up. The visitors got the important opener and after that there where no way back. In the end a deserved victory. Manglerud could only manage a draw in their match, meaning that Nordstrand went top of the table before the last match of the season. Promotion is certainly close for the team from southeast Oslo.

Club website: www.heming.no
County: Oslo – Norway